The túrógombóc, coated in golden-brown breadcrumbs, is soft and delicate on the inside, offering pure joy with every bite.
Túrógombóc is an old favorite that often finds its place among the specialties of grandmothers. This sweet delicacy is simple to make, with the only thing to keep in mind being the careful addition of semolina. If too much semolina is added to the cottage cheese, the dumplings will turn out firm. To achieve a soft texture, let the kneaded mixture rest in the cold. It can spend a night in the refrigerator, and the next day, after cooking, the inside of the dumplings will be soft and delicate.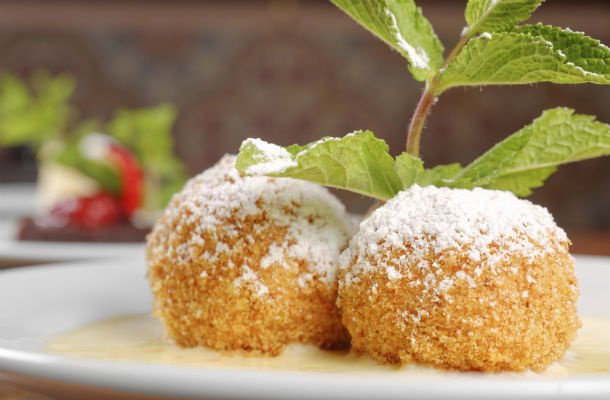 Ingredients for 4 servings:
Túrógombóc:
3 eggs
50 dkg cottage cheese
6 dkg semolina
1 pinch of salt
1 vanilla bean
2 tbsp butter
10 tbsp breadcrumbs
For serving:
Sour cream (to taste)
Powdered sugar (to taste)
Preparation time: 15 minutes
Cooking time: 30 minutes
Resting time: 3-4 hours
Preparation:
1. Separate the eggs.
2. Mix the egg yolks with the cottage cheese, then add the semolina, salt, and scraped seeds from the vanilla bean.
3. Beat the egg whites until stiff peaks form, then fold them into the cottage cheese mixture.
4. Cover the mixture with plastic wrap and refrigerate for a few hours or overnight.
5. After resting, shape the mixture into dumplings, then cook them in a large pot of boiling water for 12-15 minutes.
6. Heat the butter in a pan and toast the breadcrumbs until golden brown.
7. Roll the cooked dumplings in the toasted breadcrumbs, then serve them with sour cream and powdered sugar poured over the top.
Nutritions
Percentages are based on a diet of 2000 calories a day.
Source:
So Bors
Link: