A Hungarian-flavored side rib is velvety and juicy. The secret to the perfect texture lies in the cooking temperature.
Roast ribs are at their best when they are so tender that the meat practically falls off the bone on its own. That's why it's worth cooking them at a low temperature for a long time. For a truly splendid flavor experience, it's best to use fat instead of oil, and use it generously.
You don't need to overthink the seasoning of the ribs. The recipe represents Hungarian flavors: garlic, marjoram, salt, pepper, paprika, and mustard. Onions go under the ribs, and if you wish, you can also add peppers and tomatoes.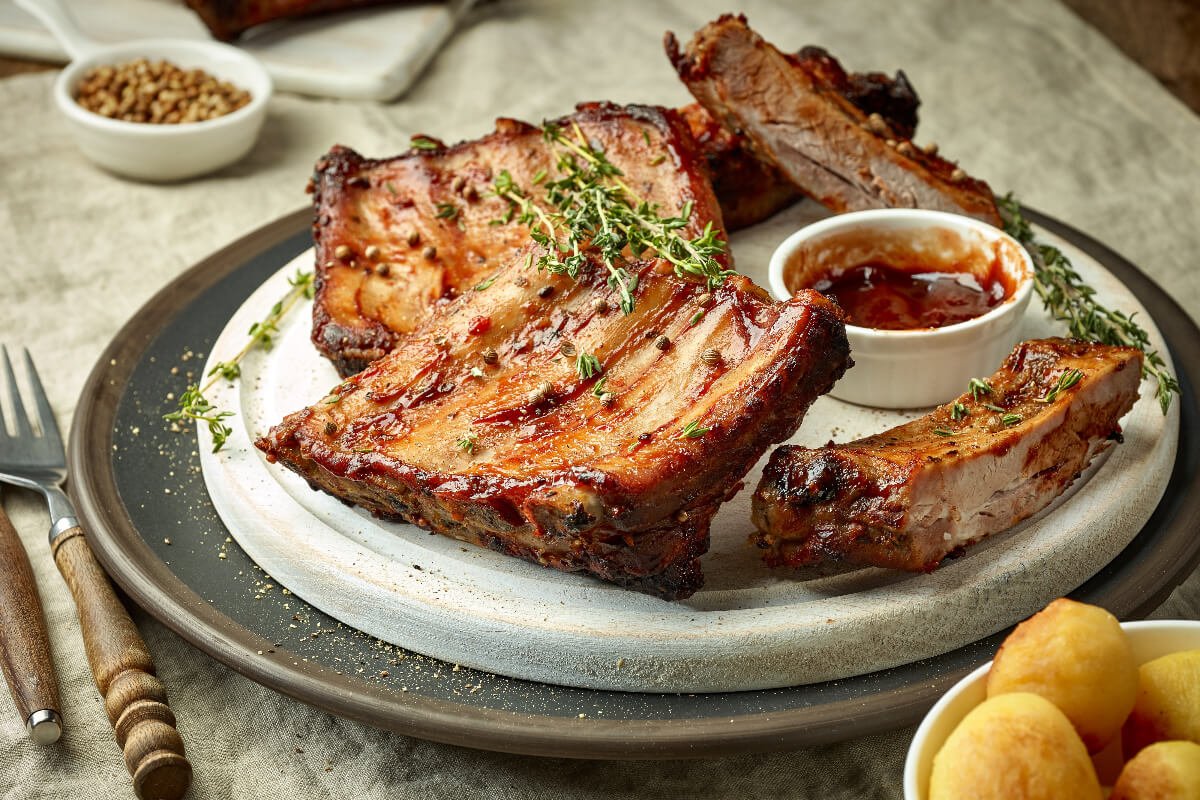 Ingredients
For 4 people
1.5 kg pork side ribs
Salt and pepper to taste
1 teaspoon marjoram
4 cloves of garlic
1 tablespoon mustard
6 tablespoons oil
3 onions
Or for the seasoning you can use our seasoning mix.
Preparation time: 10 minutes
Cooking time: 1 hour 50 minutes
Resting time: 2-3 hours
Instructions
1. Place the chopped pork side ribs in a mixing bowl. Add salt, pepper, marjoram, paprika, grated garlic, mustard, and oil. Mix everything thoroughly, cover it with foil, and refrigerate for 2-3 hours.
2. Chop the onions and spread them in a baking dish.
3. Place the marinated pork side ribs on top of the onions. If necessary, drizzle some more oil and add 1 dl of water. Then cover the baking dish with foil and put it in a preheated oven at 140 degrees Celsius (284 degrees Fahrenheit) for 80-90 minutes.
4. Remove the foil from the baking dish, increase the oven temperature to 160 degrees Celsius (320 degrees Fahrenheit), and bake for an additional 20-25 minutes until it turns a beautiful golden brown. Flip the side ribs halfway through the cooking time.