Embrace the versatility of Hungarian Mushroom Soup.
When dreary weather calls for a boost, turn to Hungarian mushroom soup. Crave something soul-warming and simple? Hungarian mushroom soup delivers. Ease into dinner with a comforting bowl of Hungarian mushroom soup. Engage in the meditative magic of chopping and stirring as you prepare this cozy soup.
Experience the paprika-tinged, soothing delight of this creamy mushroom soup. It brings wholesomeness and warmth to your cooking and dining experience. Let the troubles of the day fade away with each bite. The earthy mushrooms, fresh dill, and tangy sour cream create a harmonious balance. A sprinkle of paprika adds a blush of pink to this fragrant delight. Make Hungarian mushroom soup a staple in your cool-weather meals.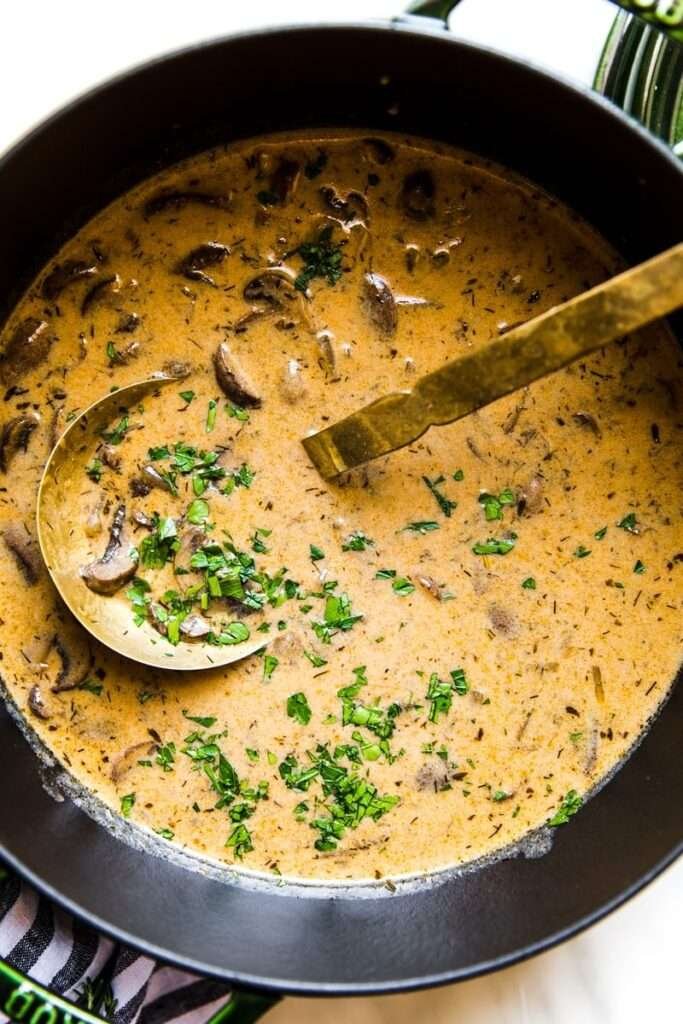 Ingredients:
4 tablespoons

salted butter

1

large yellow onion, chopped

1 pound

cremini mushrooms, sliced

2 cups

chicken or vegetable stock

1/2 cup

dry white wine

2 teaspoons

dried dill

2 teaspoons

minced fresh thyme leaves

2 teaspoons 

paprika

1 tablespoon

Worcestershire

1 teaspoon

kosher salt

3 tablespoons

all-purpose flour

1 cup

whole milk

1/4 cup

sour cream

1 tablespoon

lemon juice, from 1 lemon

2 tablespoons

fresh Italian parsley
Instructions:
Start by melting butter in a large pot over medium heat. Once the butter has melted, add the onions and mushrooms, stirring occasionally, until the onions turn soft and translucent, which usually takes about 8 minutes.
Next, incorporate the stock, white wine, dill, thyme, paprika, Worcestershire sauce, and salt into the pot. Increase the heat to high and bring the mixture to a boil. Once boiling, reduce the heat to low and let it simmer for approximately 10 minutes, allowing the liquid to reduce by about one-third.
In a separate small bowl, whisk together the flour and milk until a smooth consistency is achieved. Gradually pour this milk mixture into the soup, stirring occasionally, and continue cooking for an additional 10 minutes until the soup begins to thicken.
At this point, introduce the sour cream and lemon juice into the pot, stirring slowly over low heat until all the ingredients are fully incorporated.
To serve, divide the flavorful soup into four bowls, and enhance the presentation by sprinkling each bowl with fresh parsley. Keep in mind that this recipe yields approximately 5 cups of soup. If you intend to serve it as a main dish for four people, we recommend doubling the recipe for a heartier portion.
NUTRITION
 Calories 363 Protein 11 g Carbohydrates 35 g Total Fat 17 g Dietary Fiber 3 g Cholesterol 43 mg Sodium 593 mg Total Sugars 10 g
Source:
The Modern Proper
Link: