Discover how to make Krumplileves (Hungarian Potato Soup) with our easy recipe! This comforting soup requires minimal ingredients and is ideal for cold winter days.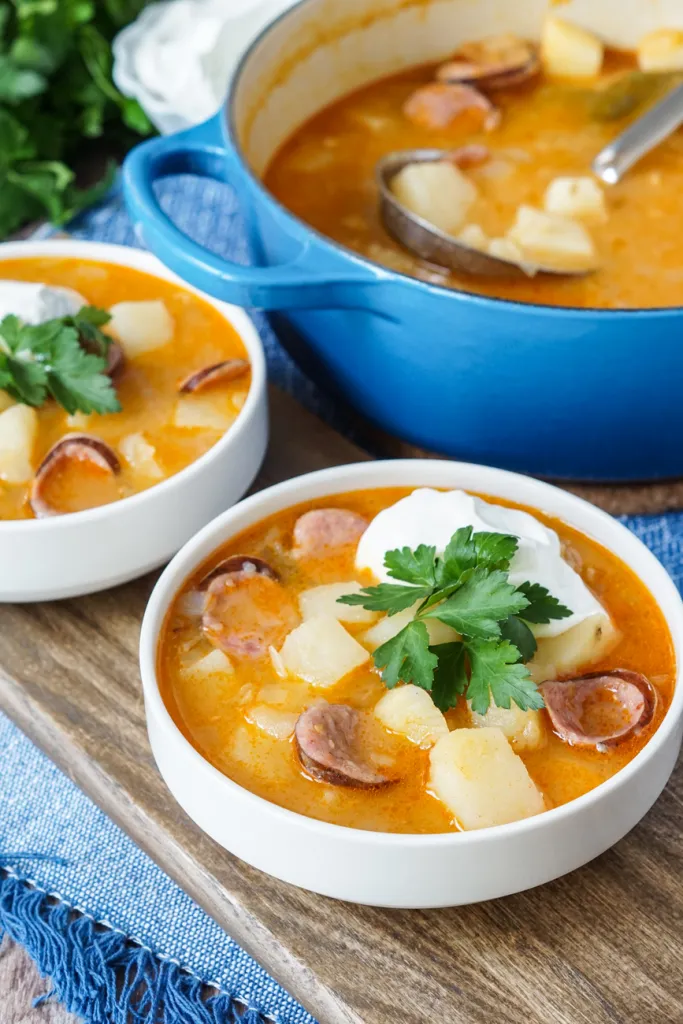 Ingredients
3

tablespoons

(44 milliliters) vegetable oil

divided

6

ounces

(170 grams) sliced Hungarian sausage or kielbasa 

optional

1

medium onion

chopped

2

cloves

garlic

peeled and minced

4

cups

(1 liter) chicken stock

3

large russet potatoes

2

bay leaves

Salt and pepper

to taste

2

tablespoons

(15 grams) all-purpose flour

1

teaspoon

 Hungarian paprika
For serving:
White vinegar

Freshly chopped parsley

Sour cream

Rustic bread
Instructions:
Begin by drizzling 1 tablespoon (15 milliliters) of vegetable oil into a large pot placed over medium heat.
If desired, add the sliced sausage to the pot and cook until it turns golden and releases its flavorful fat. Use a slotted spoon to transfer the sausage to a plate, while leaving the rendered fat in the pan.
Introduce the onion to the pan and cook it, stirring occasionally, until it becomes soft and translucent. Add the garlic and cook for an additional 30 seconds to 1 minute, until its enticing aroma fills the air.
Pour in the chicken broth, followed by the potatoes, bay leaves, salt, and pepper. Allow the mixture to come to a gentle boil, then reduce the heat to a simmer, cover the pot, and let it cook until the potatoes turn tender.
If you've set aside sausage slices earlier, now is the time to reintroduce them to the pot. Cook the soup for a little longer, ensuring the sausage is heated through.
In a separate small pan, drizzle the remaining 2 tablespoons (30 milliliters) of oil over medium heat. Whisk in the flour, continuing until you achieve a smooth consistency. Cook the mixture until it turns a golden color and becomes bubbly.
Remove the pan from the heat, stir in the paprika, and incorporate this flavorful mixture into the soup, stirring it well.
Carefully transfer the fragrant soup into individual serving bowls. Season it to your liking with white vinegar, and garnish each bowl with a sprinkle of fresh parsley and a dollop of sour cream. Complete the meal by serving it alongside slices of rustic bread.
Enjoy the heartwarming and delicious Krumplileves (Hungarian Potato Soup) on a chilly winter day!
Nutritions
Percentages are based on a diet of 2000 calories a day.
Source:
Tara's Multicultural Table
Link: