Ingredients:
Pork stew
500 g (~1 lb) pork leg, cubed
1 medium onion, finely chopped
2 garlic cloves, finely chopped
2 tbsp oil
2 tsp paprika
1/2 tsp caraway seeds
2 tsp salt
1-1 small tomato and green pepper – optional
Vegetable marrow stew:
500 g (~1 lb) vegetable marrow, shredded
2 tbsp oil
2 heaping tbsp flour
1 medium onion, finely chopped
600 ml (~2 1/2 cups) water
small bunch of dill, finely chopped
2 tsp salt
2 tbsp sour cream
splash of apple vinegar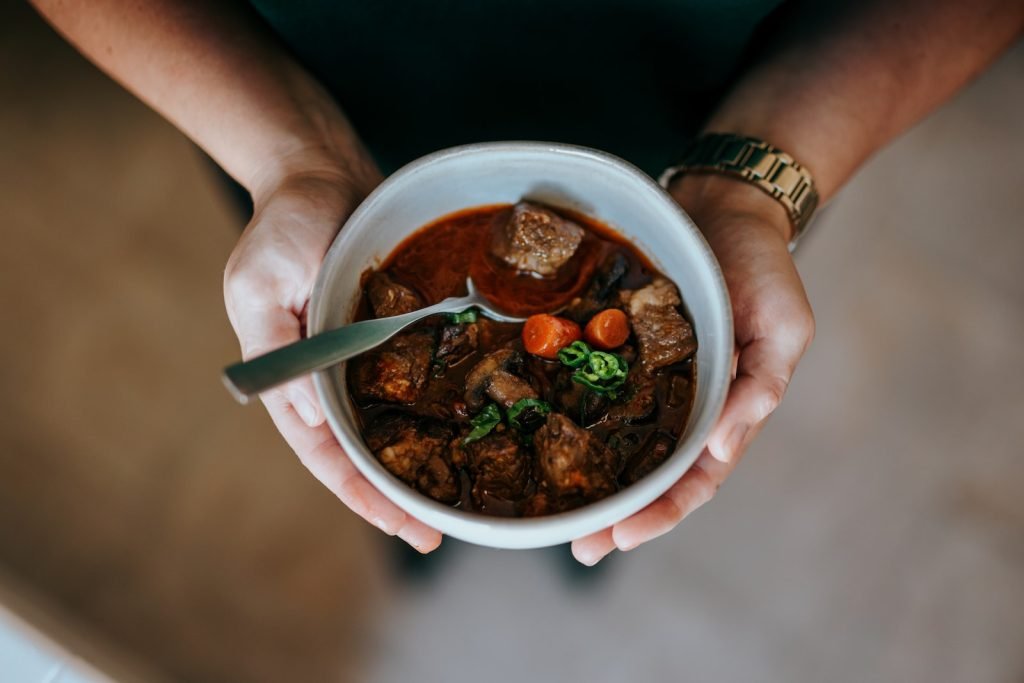 Preparation:
Vegetable marrow is a kind of summer squash, it's typically larger and longer than zucchini, with smooth, thin peel that can range in color from light beige to deep green. Vegetable marrow is low in calories with no fat or cholesterol; it provides significant amounts of dietary fiber, vitamin A, vitamin C, iron and calcium. In Hungary vegetable marrow is usually served as a soup or a stew, but it can be also stuffed with filling and baked as a main dish. Vegetable marrow stew (tökfőzelék in Hungarian) is often served with pork ragout, but if you find it too weird, it can be a great sidedish for roasts or pork patties.
In Hungary vegetable marrow is not only available during summer, but all year round thanks to deep-freezing. Frozen vegetable marrow is shredded and contains chopped dill or dill sprigs. If you buy fresh vegetable marrow, peel it using a potato peeler, then cut in half and with a spoon discard the spongy middle with the seeds, you won't need these. You can grate it by hand using the coarse side of a cheese grater or in the food processor.
The Pork Stew:
Sauté the onion in oil until translucent. Add chopped garlic, a few seconds later add cubed pork and cook until all sides turn white.
Remove the pot from the heat, sprinkle the meat with paprika and stir to cover evenly. Pour in water, just enough to cover three quarter of the food.
Return to the heat, stir in caraway seeds, salt, green pepper and tomato. Bring it to slow, steady simmer, cover with lid and cook until pork is tender.
Add more water if necessary, so the stew doesn't burn. When meat is tender, simmer uncovered for 10-15 minutes to reduce sauce.
The Marrow-Tokfozelek
Squeeze the shredded vegetable marrows with your hands until mostly dry if it is very watery.
Heat up the oil, add finely chopped onion and two heaping tablespoons of flour, and cook until the roux reaches the blonde stage.
Pour in water, add the vegetable marrows, dill and salt. While stirring constantly, bring it to a boil and cook until tender – it takes about 10-15 minutes.
Turn off the heat. Combine sour cream with some hot liquid, and pour the mixture into the vegetable marrow stew.
Flavour the stew with a splash of white wine vinegar or apple vinegar.
source: http://zserbo.com/vegetable-dishes/vegetable-marrow-stew-with-pork-ragout/