Excellent ingredients, plenty of onions, and time are the soul of a good beef stew, which can be cooked at low heat for hours. There are no two identical recipes, just as no two identical cooks exist everyone moves differently in the kitchen. But that's okay cooking is a wonderful thing, eating even better. Don't be afraid to bring your ideas to life, tailor the dishes to your own taste.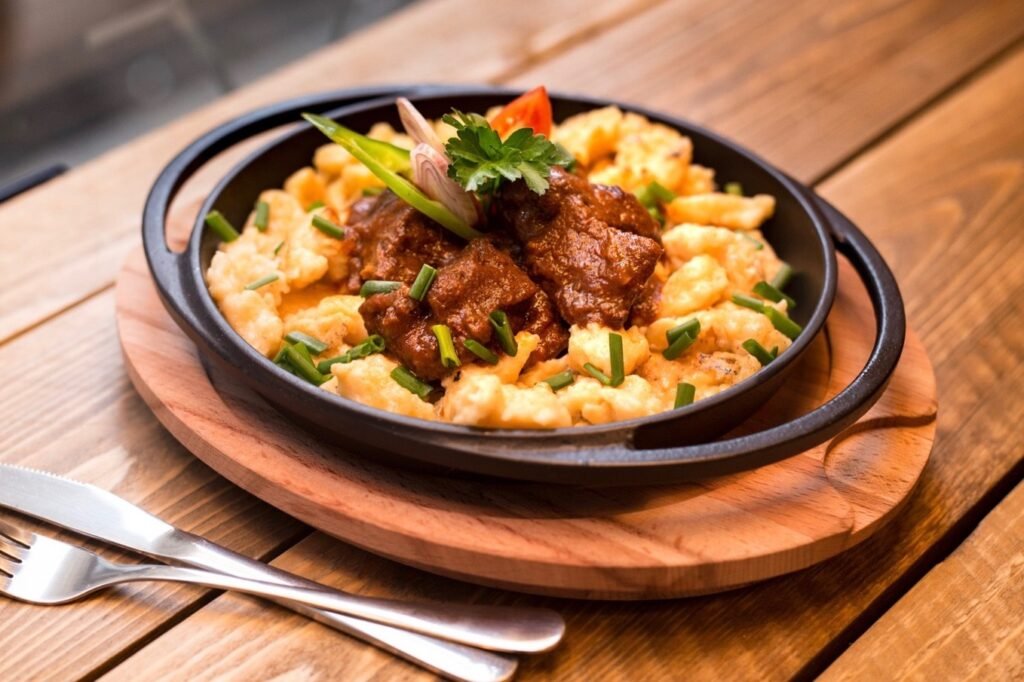 Ingredients
For the stew
2 tablespoons fat
2 onions
1 clove of garlic
2 bay leaves
1 kg beef shank (can also use beef leg)
1 – 2 tomatoes
1 bell pepper
2 tablespoons hot paprika cream
2 tablespoons red paprika
salt
½ teaspoon black pepper
35 g dark chocolate
For the dumplings
600 g flour
2 eggs
4 tablespoons oil
approx. 360 ml water
2 teaspoons thyme
salt
Instructions
For the base of the dark chocolate beef stew, melt the fat and start sautéing the finely diced onions. Add chopped garlic and bay leaves. Once the onions become translucent, add the 1×1 cm diced meat and sauté for about 2-3 minutes. Add finely chopped tomatoes, bell peppers, and the sweet paprika cream. Pour enough water to cover the meat by about 1-2 cm and start cooking over medium heat.
After 30-40 minutes, sprinkle with red paprika, add salt and black pepper, and continue cooking until the meat becomes tender. Keep adding water as needed to prevent the stew from burning. When the meat is tender, turn off the heat, and add the chocolate, stirring until it melts.
For the dumplings, start making them when the water for cooking is boiling. In a bowl, mix the flour, eggs, oil, water, thyme, and salt. Stir until well combined. Using a spaetzle maker or a similar tool, drop the dumpling batter into the boiling water and cook for 2-3 minutes.
Serve the cooked dumplings alongside the stew and serve with pickles or pickled vegetables.