With lots of cheese, divine dish  from frozen vegetables. The green beans are combined with a silky béchamel sauce and baked in the oven until golden brown.
If you intend to serve it as a side dish, bake it with béchamel sauce and cheese until it turns golden brown. However, if you desire a more exciting flavor experience, top the green beans mixed with béchamel sauce with panko breadcrumbs and caramelized onions, creating a delightful crispy texture. It's also worth experimenting with flavors: while nutmeg often plays a special role in béchamel sauce, in this recipe, garlic and cayenne pepper add a bolder character.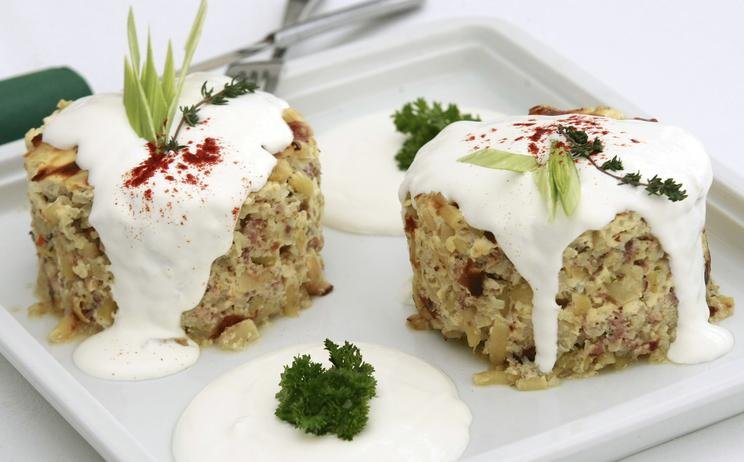 Ingredients for 6 servings:
Base:
– 1 kg green beans (frozen)
– 200 g cheddar cheese
– 1/2 cup panko breadcrumbs (optional)
Béchamel sauce:
– 1 tbsp butter
– 2 tbsp flour
– 500 ml milk
– 2 cloves of garlic
– Salt and pepper to taste
– 1/2 tsp hot Hungarian paprika
Caramelized onions:
– 4 onions
– 3 tbsp flour
– Oil for frying
Preparation time: 35 minutes
Cooking time: 25 minutes
Preparation:
First, let's make the béchamel sauce: melt the butter in a high-sided saucepan, then stir in the flour. Gradually pour in the milk while stirring constantly. Season with salt and pepper. Cook until the sauce thickens (approximately 5-8 minutes). Then stir in the crushed garlic and cayenne pepper.
Place the green beans in boiling water and cook until tender (5-8 minutes), then drain.
Transfer the cooked green beans to a casserole dish or other oven-safe dish. Pour the béchamel sauce over the beans and mix in the grated cheese.

Peel and finely dice the onions. Place them in a bowl and sprinkle with flour. Toss the onions in the flour until they are coated evenly.

Heat oil in a frying pan. Add a portion of the coated onions to the pan, making sure not to overcrowd it to allow for even browning. Be careful not to let them burn. Fry the onions until they turn golden brown, then remove them from the pan and place them on a paper towel to absorb excess oil.

Sprinkle panko breadcrumbs (optional) and caramelized onions on top of the béchamel-coated green beans. Place in a preheated oven at 180°C (350°F) for 15-25 minutes, or until golden brown and bubbling.
Nutrition
Calories: 412 kcal
Protein: 17.6 g
Fat: 26.8 g
Carbohydrates: 23.4 g
Recipe divided per serving.
Source:
SoBors
Link: