Enjoy cauliflower deliciously with this Hungarian Cauliflower Soup, boasting a flavorful paprika-infused broth and delightful dumplings for added texture. Karfiolleves, a traditional Hungarian cauliflower soup, typically features hot Hungarian paprika, which may be intense for some.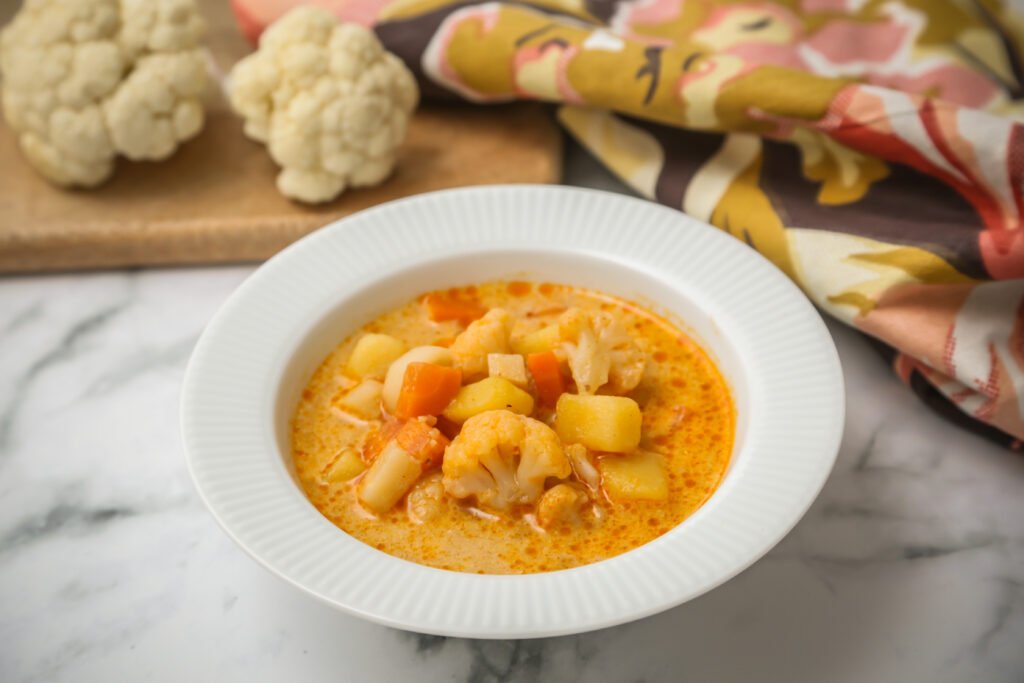 Ingredients for the Dumplings:
– 1/3 cup all-purpose flour
– 1/2 teaspoon kosher salt (slightly less for table salt or salted butter)
– Freshly ground pepper
– 2 tablespoons unsalted butter, cold and cubed
– 1 large egg
Ingredients for the Soup:
– 4 tablespoons unsalted butter
– 1 tablespoon sweet Hungarian paprika
– 1/8 – 1/4 teaspoon hot Hungarian paprika (adjust to taste for heat)
– 1 medium yellow onion, finely chopped
– 6 cups chicken stock (low-sodium works well)
– 1 small head cauliflower, cut into small florets (remove large stem)
– 1 medium carrot, peeled and sliced or diced
Garnish:
– 1 small bunch flat-leaf parsley, finely chopped and stemmed.
– some sour cream
Instructions
To prepare the dumplings:
In a small bowl, combine flour, salt, and freshly ground pepper. Incorporate 2 Tbsp. of butter, rubbing it into the flour until pea-sized crumbles form. Add the egg and stir until a thick batter-like dough forms. Cover and refrigerate.
For the soup:
In a large pot, melt the remaining 4 Tbsp. of butter over medium-high heat. Add paprika, cayenne, and onion, stirring until soft (about 5 minutes). Pour in chicken stock, cauliflower, and carrots, bringing it to a boil. Reduce heat and cook, occasionally stirring, until veggies are tender (approximately 15 minutes).
Using a 1/2-tsp. measuring spoon, quickly drop all dumpling dough into the simmering soup. Cook, stirring occasionally, until the dumplings are done (around 3 minutes). Taste and add more salt if needed. Adjust cayenne for extra heat.
To serve, ladle soup with dumplings into bowls, and garnish with chopped parsley and sour cream.
Nutritions
serving: 1serving, calories: 250kcal, carbohydrates: 19g, protein: 9g, fat: 15g, saturated fat: 8g, polyunsaturated fat: 1g, monounsaturated fat: 5g, trans fat: 0.5g, cholesterol: 68mg, sodium: 572mg, potassium: 493mg, fiber: 2g, sugar: 6g, vitamin a: 2693iu, vitamin c: 24mg, calcium: 36mg, iron: 1mg
Source:
Seasons and Suppers
Link: