Indulge in the wonderful summer dish of Hungarian vegetable marrow stew. Shred the vegetable marrow and mix it with sour cream, onions, and dill. It's light, refreshing, and a simple vegetarian meal ready in 30 minutes. Enjoy it at any temperature—room temp, warm, or my personal favorite—cold.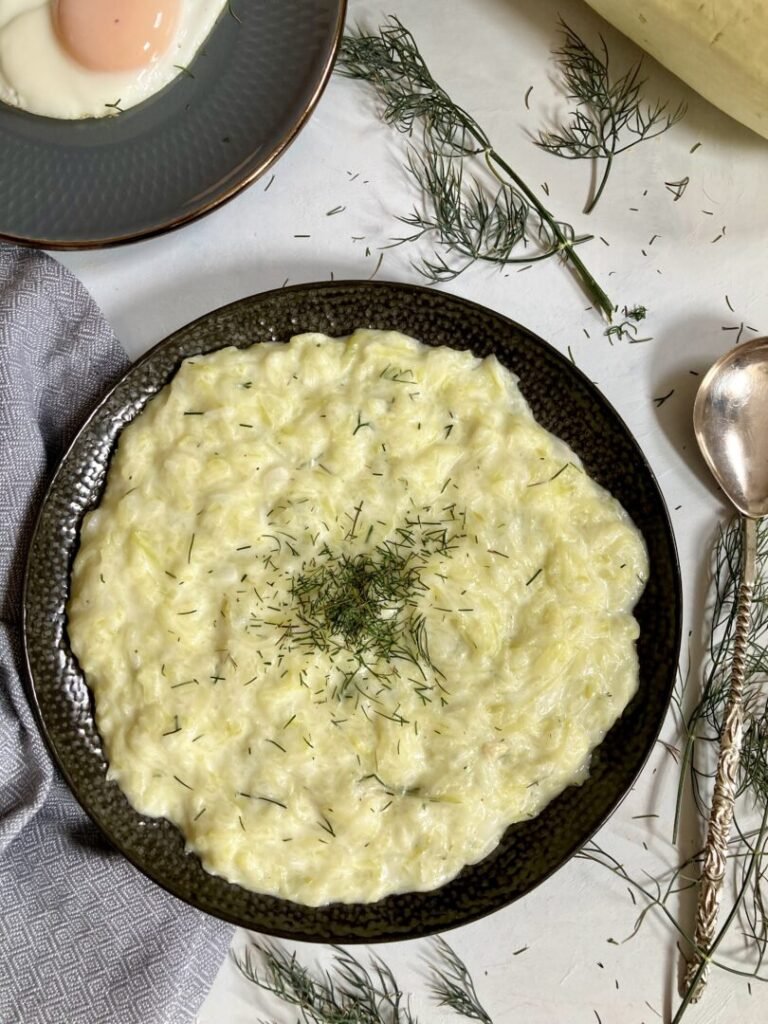 Ingredients:
1

medium

vegetable marrow

500 grams, 17.5 ounces of shredded vegetable marrow

1

small

Spanish onion

3/4

cup

sour cream

2

tbsp

all purpose flour

heaping

1

handful

dill

Salt

1

tbsp

vegetable oil

sunflower, canola
Instructions:
To prepare Hungarian vegetable marrow stew, start by peeling and halving the vegetable marrow lengthwise.
Remove the seeds with a spoon, then cut it into four pieces and grate them.
Next, finely dice an onion and sauté it in a medium pot with 1 tablespoon of vegetable oil over low heat. Sprinkle some salt to moisten the onions.
Add the grated vegetable marrow to the pot and pour enough water to cover it. Salt to taste and cook until tender (around 10 minutes).
In a separate bowl, whisk together sour cream and flour. Slowly add spoonfuls of the vegetable marrow water to the sour cream-flour mixture, stirring until smooth.
Pour the tempered sour cream mixture into the pot while stirring continuously to prevent clumping.
Bring it to a boil to thicken the stew, but be sure to turn off the heat once it starts boiling to prevent the sour cream from curdling.
Season with salt to taste, sprinkle with chopped dill, and enjoy!
Source:
Budapest Cooking Class
Link: