Ingredients:
2 medium heads of cabbage
1 big onion, finely chopped
2 tbsp oil or lard

1 tbsp sweet Szeged paprika
500 g (~1 lb) minced pork
100 g (~3 1/2 oz) smoked bacon, finely chopped
200 g (~7 oz) rice
2 garlic cloves, crushed
1/2 tsp black pepper
1 – 1 1/2 tsp salt
2 pinches of ground caraway
2,5 – 3 l (~10-12 cups) tomato juice or 500 ml (~2 cups) tomato puree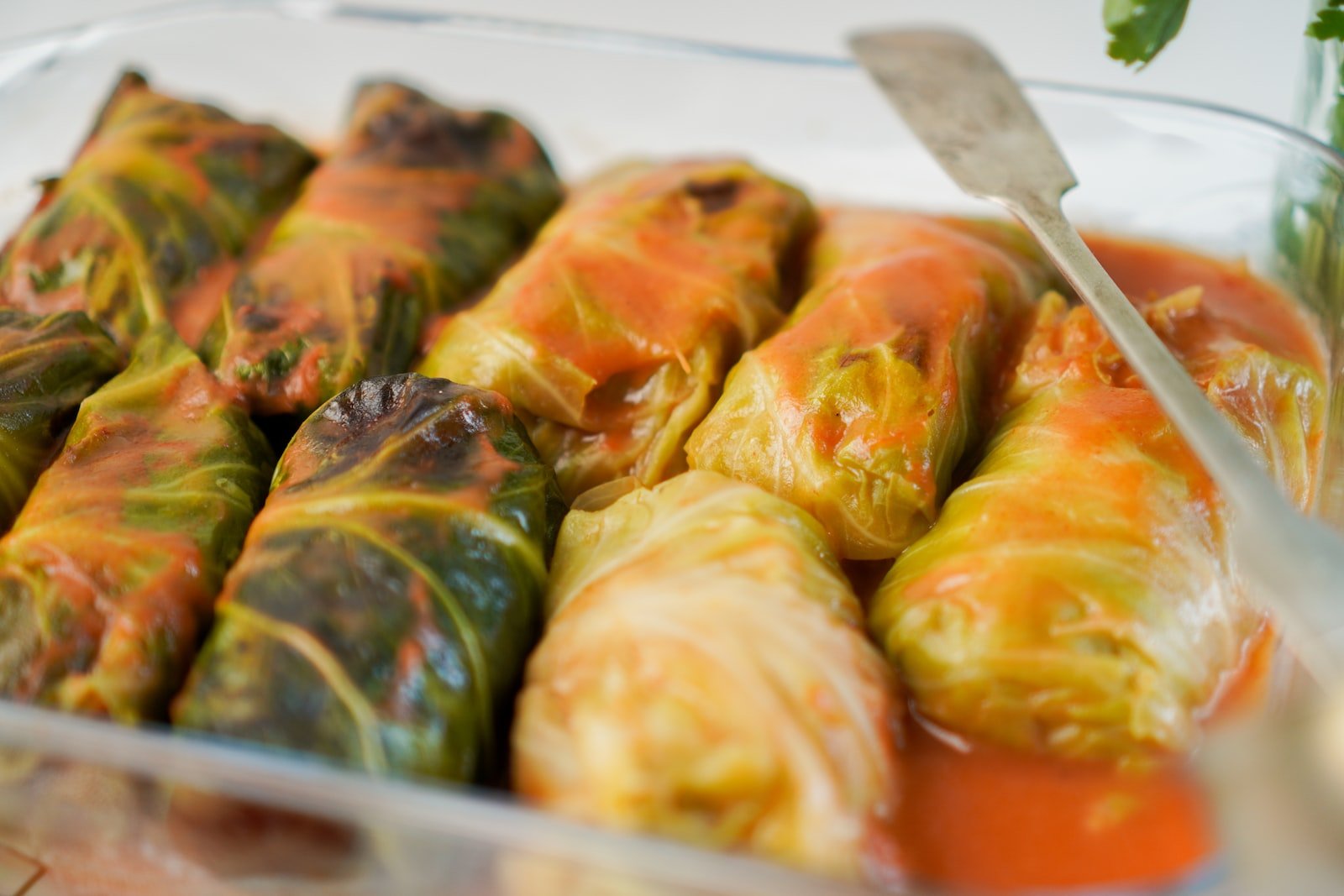 Preparation:
You can meet different recipes of stuffed cabbage depending on which part of the country you visit. The ancestor of stuffed cabbage was the cabbage meat (káposztás hús), a stew-like one pot dish; stuffing the cabbage leaves with ground meat spread in Hungary only during the Turkish occupation in the 17th century.
The following recipe comes from Szabolcs-Szatmár-Bereg county located in the north-eastern tip of Hungary. These cabbage rolls are stuffed with the mixture of ground pork, bacon, rice and sauteed onion, and cooked in tomato juice. If you don't have tomato juice, puree will do as well, just dilute it with water, just enough to cover the food. The cabbage leaves are cut in half lengthwise because the goal is to make as little rolls as possible.
Bring a large pot of water to a boil. Remove the outer leaves of the cabbage and core out the heads. Place a head (cored side up) in the boiling water and wait until you can easily peel the leaves with a wooden spoon one by one. Take them out from the water. Cut off the hard rib from the base of each cabbage leaf, then lengthwise cut the leaves in half (your  goal is to make as little rolls as possible). Repeat the above process with the other head of cabbage.
While the leaves cool, prepare the stuffing. Saute the finely chopped onion in oil or lard. Once it's done, turn off the heat and sprinkle the onion with sweet paprika. Set aside and let it cool a bit. Place minced pork and finely chopped bacon in a bowl. Rinse the rice and add to the meat. Add garlic and sauteed onion. Season with salt, pepper and ground caraway. Mix them up with your hand.
Place a small amount of stuffing on each leaf, roll it up and gently tuck in the ends. When all the stuffing is gone, cut the remaining cabbage leaves into fine shreds.
Adopted from: zserbo.com