We love flashy dishes, and if there's something that everyone considers as such, it's Stroganoff. We prepared it with chicken instead of the traditional beef, creating one of the most indulgent luxury dishes in the world. To make the story even more exciting, we jazzed up the side dish and made cauliflower rice to go with it.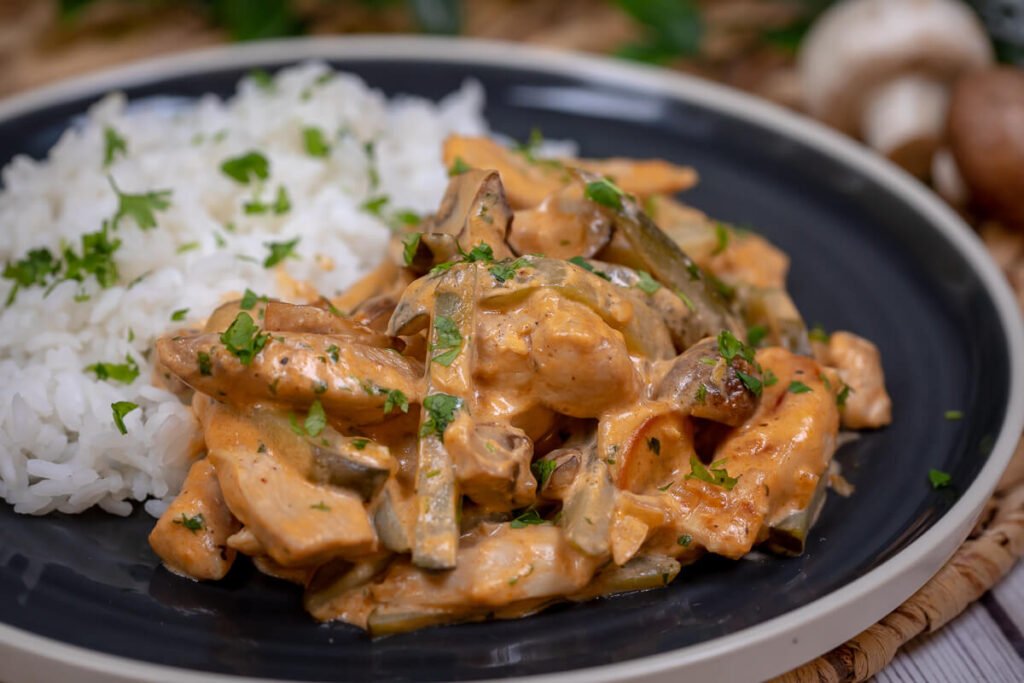 Ingredients
For the Stroganoff:
200g white button mushrooms (or a mix of various mushrooms like chanterelles, fox, or morel)
300g chicken breast fillet
Salt and pepper
1 teaspoon cornstarch
1 teaspoon tomato paste
2 tablespoons oil
2 teaspoons Dijon mustard
5 small pickles (cornichons)
2 heaping tablespoons sour cream
1/2 bunch of parsley
For the "cauliflower rice":
1 head of cauliflower
60g butter
2 cloves of garlic
A pinch of dried thyme
Salt and pepper
Instructions
Clean the mushrooms and sauté them in a dry pan until they shrink significantly.

Cut the chicken into cubes, season with salt and pepper, add cornstarch, and 1-2 tablespoons of water. Mix well.

In the same pan with the mushrooms, add the tomato paste and sauté until it turns a rusty brown color.

Add the chicken to the pan and drizzle with a little oil. Toss and combine thoroughly.

Season with salt, pepper, and add the mustard. Sauté for 2-3 minutes.

Cut the pickles in half lengthwise and add them to the pan. Pour in about half a deciliter of water and spoon in the sour cream. Mix well and simmer the stew for 10-15 minutes until it's done.

Finally, add the roughly chopped parsley.
Cauliflower rice
Cut the cauliflower into florets, and then use a food processor to pulse it into a crumbly texture.

Heat a clean skillet and melt the butter in it. Add thinly sliced garlic and dried thyme to the melted butter.

Add the pulsed cauliflower to the skillet, season with salt and pepper, and sauté it until it's nicely browned.

You can sprinkle some chopped parsley on top when serving.